Open Deck Truck Driving Careers
To see all driving positions at Kaiser, click the "APPLY NOW" button below.
Now hiring professional long haul step deck and double drop Drivers! Top Drivers earn up to $110,000/yr!
Truck Driving Careers at Kaiser Transport
Kaiser Transport is a TSS (Trailer-Space-Sharing) aka LTL long haul, open deck trucking company. We specialize in hauling large equipment with double-drop and step-deck trailers. We operate from coast-to-coast in the USA as well as Canada.
We maintain top of the line equipment such as late model long nose 389 Peterbilts, custom Reitnouer aluminum trailers, full supply inventory, we do not drop and hook, and we do not slip seat, you will be married to your truck. AND you get to pick your own color when it's time to order new ones!
As a family-owned company, we promote a close family atmosphere between drivers and support staff. We're not your typical flatbed company. If you're looking for a driving challenge apply today!
Driver Hiring Map....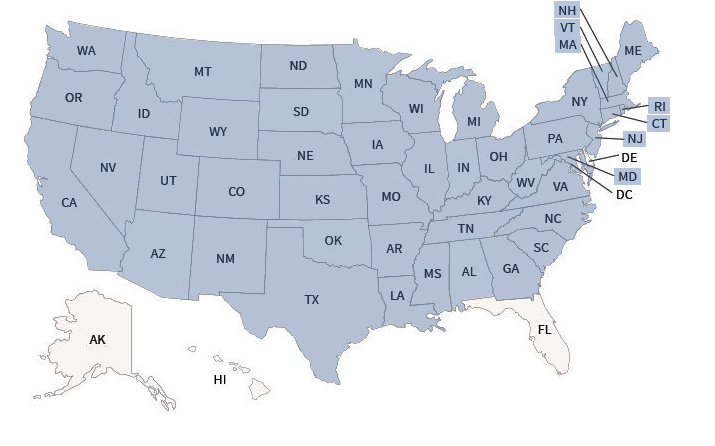 Are You...
Looking to be a part of an elite trucking company?
Wanting to be known by your name and not your truck number?
Ready to drive the best equipment on the road?
Looking for a place to call home?
Bored doing truckload-cookie cutter flatbed work?
If you answered yes to any of these questions, Kaiser Transport might be the right place for you.
---
APPLY NOW
---
To Drive for Kaiser Transport, Inc. you must have the following qualifications:
Meet all Federal Motor Carrier guidelines.
Hold a valid Class A CDL issued from your state of residence.
At least 6 months open-deck (step-deck, double-drop or flatbed), 1 year long haul experience, and 2 years with a CDL-A.
Be at least 23 years old.
Pass a post offer screening assessment and the DOT pre-employment drug test.
Be able to stay out for at least 3 weeks at a time.
Willing to be dispatched Coast to Coast.
Be able to secure and tarp freight in all weather conditions.
Our Referral Program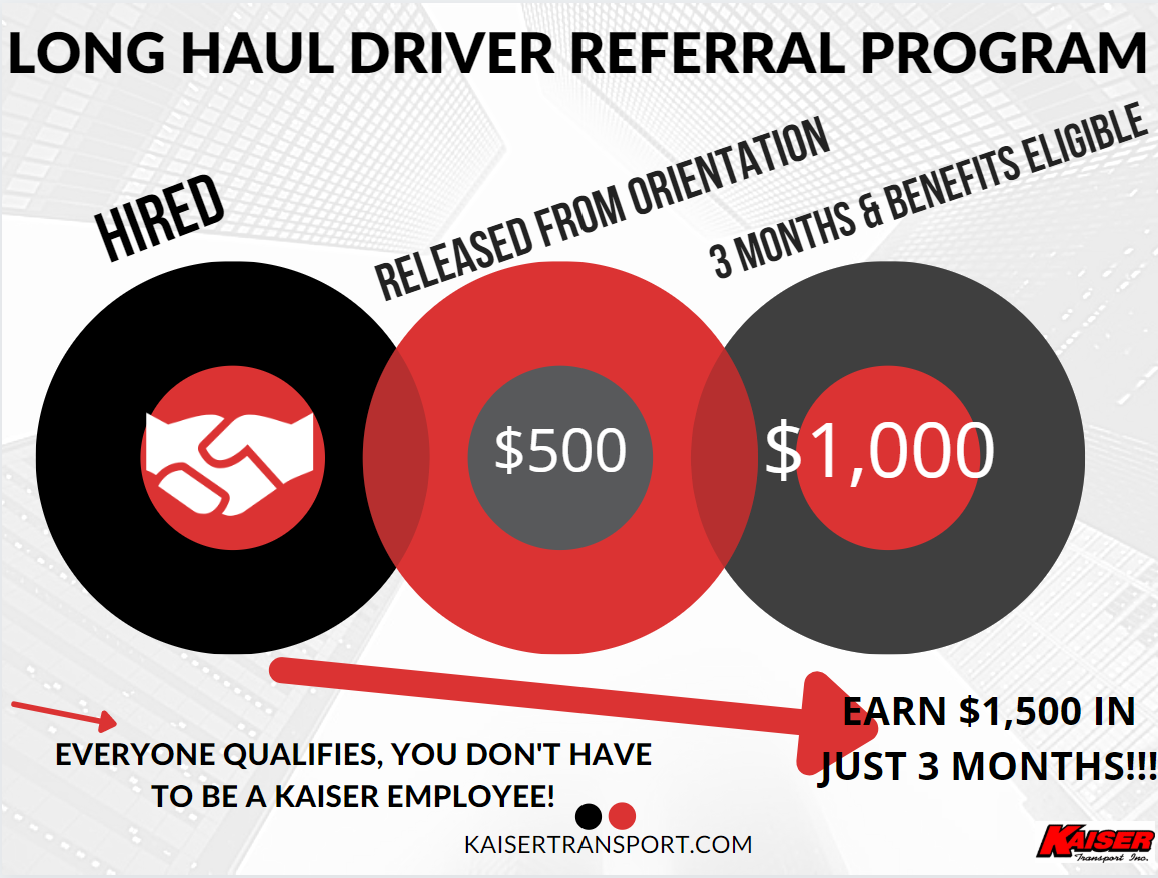 Kaiser Transport, Inc. does conduct background checks on all applicants as well as acquiring your motor vehicle record from your home state, checks for undisclosed licenses or previous licenses through the federal CDLIS (Commercial Driver's License Information System), checks criminal records required by C.P.A.T. and F.A.S.T. and uses USIS (formerly DAC) to gather past employment records.
---
Kaiser Transport, Inc. is an equal opportunity employer committed to providing a workplace free from unlawful discrimination. It is the policy of the company to base all employment decisions on factors unrelated to an individual's race, creed, religion,national origin, age, disability or any other category protected by state or federal laws. Employment at Kaiser Transport, Inc. will be considered "at-will" in nature, meaning that it is for no specific duration and can be terminated at the will of the company or the employee at any time, for any reason, except as prohibited by statute or public policy.